Leathercraft Merit Badges - Leather Craft Supplies ~ Indian Lore Merit Badge

Standing Bear's Trading Post Leather Craft and Leather Tooling Supplies

Catering to the Needs of the Scouting Programs - Scout crafts, Merit Badges


We have NO affiliation with the Boy Scouts of America other than William Standing Bear Kimmey was a Scout for 70+ Years


Selling Leathercraft Supplies and Teaching People How To Use Them Since 1999
Custom Leather For 30+ Years!
Connect with us on the social networks:








The kits on our scout crafts page are a little less expensive than kits found on our other kit pages.
We have listed them here as a way to suggest lower cost kits to groups.
The Shapes and Wristband page also contains lower cost items.




Merit badges signify the mastery of certain Scoutcraft skills,


The merit badges we can help your scouting group with include:
Leathercraft Merit Badge & Indian Lore Merit Badge.

We Ship Nationwide
No matter how near or far, We ship anywhere in the US.
Please do not hesitate to e-mail or call in your order and have us ship the items to you.

Purpose of Scouting
Scouting Ranks
Purpose of Girl Scouts
Scouting Links

A Little About Scouting - Scout Merit Badges:
The ranks of Scouts are:
Tenderfoot, Second Class, First Class, Star, Life, and Eagle

The purpose of the Boy Scouts of America
Provide an educational program for boys and young adults to build character,
to train in the responsibilities of participating citizenship, and to develop personal fitness.
Whether you are a group that consists of Tiger Scouts, Wolf Scouts, Bear Scouts,
Webelos Scouts, Tenderfoot Scouts, 2nd Class Scouts, 1st Class Scouts, Star Scouts, Life Scouts,
Eagle Scouts, or members of OA "The Order of The Arrow" we have something for you.
Merit badges signify the mastery of certain Scoutcraft skills,
The merit badges we can help your scouting group with include:
Leathercraft Merit Badge & Indian Lore Merit Badge.
Requirements for
Leatherwork merit badge
1. Identify and demonstrate to your counselor the safe use of leatherworking tools. Show correct procedures for handling leathercraft dyes, cements, and finishes.
(Because of new California state law, we will teach them to use the products that meet current
California State VOC regulations when working with leather)
Know first aid for cuts, internal poisoning, and skin irritation.

2. Explain to your counselor
A. Where leather comes from
B. What kinds of hides are used to make leather
C. What are five types of leather
D. What are the best uses for each type of leather

3. Make one or more articles of leather that use at least five of the following steps:
A. Pattern layout and transfer
B. Cutting leather
C. Punching holes
D. Carving or stamping surface designs.
E. Applying dye or stain and finish to the project.
F. Assembly by lacing or stitching
G. Setting snaps and rivets
H. Dressing edges

4. Recondition or show that you can take proper care of your shoes,
a baseball glove, a saddle, furniture or other articles of leather.

5. Do ONE of the following:
A. Learn about the commercial tanning process. Report about it to your merit badge counselor.
B. Tan the skin of a small animal.
Describe the safety precautions you will take and the tanning method that you used.
C. Braid or plait an article out of leather or vinyl lace.
D. Visit a leather-related business. This could be a leathercraft supply company,
a tannery, a leather goods or shoe factory, or a saddle shop.
Report on your visit to your counselor.
---

Here are some Scouting Links that may be of interest to you:
ScoutPatches.com - The largest Boy Scout patch library on the internet!
Girl Scout ® Patches & Pins -
custom and stock embroidered girl scout patches and pins.
BSA website - Boy Scouts of America - BSA - National Council
Scouting Magazine - Scouting magazine is a general-interest, news, and informational publication for all registered BSA adult volunteers and professionals.
Girl Scouts of the USA: Official Web Site
Comprehensive information on the Girl Scouting movement. Related links, resources, and scout news.
---
Requirements for
Indian Lore merit badge:
1. Give the history of one American Indian tribe, group, or nation that lives or has lived near you.
Visit it, if possible. Tell about traditional dwellings, way of life, tribal government, religious beliefs,
family and clan relationships, language, clothing styles, arts and crafts, food preparation, means of getting around, games, customs in warfare, where members of the group now live, and how they lived.

2. Do TWO of the following. Focus on a specific group or tribe.
A. Make an item of clothing worn by members of the tribe
B. Make and decorate three items approved by your counselor used by the tribe.
C. Make an authentic model of a dwelling used by any Indian tribe, group, or nation
D. Visit a museum to see Indian artifacts. Discuss them with your counselor.
Identify at least ten artifacts by tribe or nation, their shape, size, and use.

3. Do ONE of the following:
A. Learn three games played by a group or tribe. Teach and lead one game with a Scout group.
B. Learn and show how a tribe traditionally cooked or prepared food. Make three food items.
C. Give a demonstration showing how a specific Indian group traditionally hunted, fished, or trapped.

4. Do ONE of the following:
A. Write or briefly describe how life would have been different for the European settlers if there had been no Indians to meet them when they came to this continent.
B. Sing two songs in an Indian language. Explain their meaning.
C. Learn in an Indian language at least twenty-five common terms and their meanings.
D. Show twenty-five signs in Indian sign language.
Include those that will help you ask for water, food, and where the path or road leads.

5. Learn in English (or in the language you commonly speak at home or in the troop) an Indian story of at least three hundred words, or any number off shorter ones adding up to three hundred words.
Tell the story or stories at a Scout meeting or campfire.

6. Write or tell about eight things adopted by others from American Indians.

7. Learn twenty-five Indian place-names. Tell their origins and meanings.

8. Name five well-known American Indian leaders, either from the past or people of today.
Give their tribes or nations. Describe what they did or do now that makes them notable.

9. Learn about the Iroquois Confederacy, including how and why it was formed.
Tell about its governing system, and its importance to the framers of our Constitution of the United States.
The Purpose of Girl Scouting
Inspire girls with the highest ideals of character, conduct, patriotism,
and service that they may become happy and resourceful citizens.
Whether you are a group that consists of Daisy scouts, Brownies, Junior Girl Scouts or Girl Scouts,
we have something for you.
Thank you for visiting our website for your scout craft needs.

Selling Leathercraft Supplies and Teaching People How To Use Them Since 1999
Custom Leather For 30+ Years!
Connect with us on the social networks:








HOURS:
Monday Through Saturday 10am - 6pm

Standing Bears Trading Post 7624 Tampa Ave. Reseda, Ca. 91335
818 342-9120
Mon - Sat 10AM - 6PM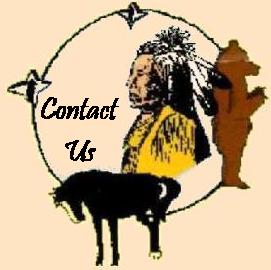 We have NO affiliation with the Boy Scouts of America other than William Standing Bear Kimmey was a Scout for 70+ Years